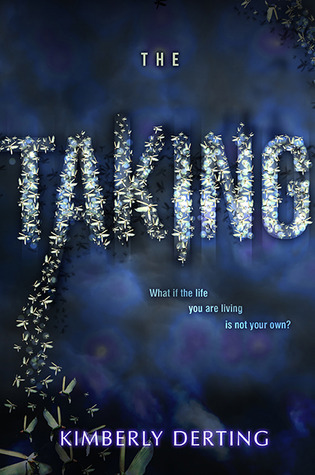 Author: Kimberly Derting
Publisher: HarperTeen
Series: The Taking #1
Genre: Science Fiction, Paranormal
When sixteen-year-old Kyra Agnew wakes up behind a Dumpster at the Gas 'n' Sip, she has no memory of how she got there. With a terrible headache and a major case of déjà vu, she heads home only to discover that five years have passed . . . yet she hasn't aged a day.

Everything else about Kyra's old life is different. Her parents are divorced, her boyfriend, Austin, is in college and dating her best friend, and her dad has changed from an uptight neat-freak to a drunken conspiracy theorist who blames her five-year disappearance on little green men.

Confused and lost, Kyra isn't sure how to move forward unless she uncovers the truth. With Austin gone, she turns to Tyler, Austin's annoying kid brother, who is now seventeen and who she has a sudden undeniable attraction to. As Tyler and Kyra retrace her steps from the fateful night of her disappearance, they discover strange phenomena that no one can explain, and they begin to wonder if Kyra's father is not as crazy as he seems. There are others like her who have been taken . . . and returned. Kyra races to find an explanation and reclaim the life she once had, but what if the life she wants back is not her own? {goodreads.com}
---
Review
I seriously enjoy Kimberly Derting's writing. She is an amazing author of several great series and short stories. I have read her entire Body Finder series (and hoping upon hope for another).  And I currently have the pledge series in my TBR pile. So all that being said I was geared up to like The Taking, and I did.
The Taking is a fast paced gripping story that had me hooked from the very first page. Derting had no problem morphing from her traditional supernatural/horror background to traditional science fiction. Derting showcases her full knowledge of science fiction by not relying on the tried and true alien encounters (i.e. Tommyknockers and Pod People) instead she took a traditional fear (being kidnapped by aliens) and put her own spin on it. As a reader I felt Kyra's fear when she awoke to find that 5 years had past and her entire life had passed her by. Kyra's horror as she realized that her family split, her boyfriend aged, and the town determined she was dead was devastating.
The only problem that I found with The Taking was Kyra's obsession with her boyfriend, Austin. I felt that Derting was relying too heavily on the teen obsessive love theme (see Twilight). However, once Kyra moved beyond (or as far as she could) this issue she truly grew as a character.
This story will leave you wondering if your crazy uncle could truly be telling the truth: that aliens are among us. The Taking is an amazing read, and will appeal to fans of both the Pledge and Body Finder series.