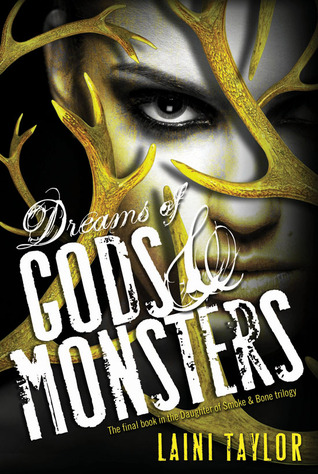 Author: Laini Taylor
Publisher: Little, Brown & Company, 2014
Series: Daughter of Smoke and Bone #3
Genre: Young Adult, Fantasy, Romance
By way of a staggering deception, Karou has taken control of the chimaera rebellion and is intent on steering its course away from dead-end vengeance. The future rests on her, if there can even be a future for the chimaera in war-ravaged Eretz.

Common enemy, common cause.

When Jael's brutal seraph army trespasses into the human world, the unthinkable becomes essential, and Karou and Akiva must ally their enemy armies against the threat. It is a twisted version of their long-ago dream, and they begin to hope that it might forge a way forward for their people.

And, perhaps, for themselves. Toward a new way of living, and maybe even love.

But there are bigger threats than Jael in the offing. A vicious queen is hunting Akiva, and, in the skies of Eretz … something is happening. Massive stains are spreading like bruises from horizon to horizon; the great winged stormhunters are gathering as if summoned, ceaselessly circling, and a deep sense of wrong pervades the world.

What power can bruise the sky?

From the streets of Rome to the caves of the Kirin and beyond, humans, chimaera and seraphim will fight, strive, love, and die in an epic theater that transcends good and evil, right and wrong, friend and enemy.

At the very barriers of space and time, what do gods and monsters dream of? And does anything else matter?
---
Review
I am literally heart broken that this series is complete. I think I need Laini Taylor to write at least 12 more until I can even think about quitting these characters (although I know that I will be rereading this series in its entirety during the Holidays, because that is when I like to revisit my favorite authors). Honestly Laini Taylor could rewrite the phone book and I would love it, she is THAT good of an author! Literally the best.
This series is officially one of my favorites of all time. It gets to grace my special shelf along with Ella Enchanted, Harry Potter Series, and all my Meg Cabot.
I am super happy with this final book, but I can't help but feel that there should be more! I need more Ziri, Liraz, Karou, Akiva, Zuze & Mik, Angels and chimaera. I need them all. Although, I am super happy with this final book and the series as a whole, this was the messiest book out of the series. I believe that Laini Taylor tried to do too much with too little space allotment. She not only tied up the stories from the previous two novels, she added more story lines, and I feel cheated out of their endings.
However, as with the previous two books in the series, the characterization and world building is amazing. Taylor does a wonderful job creating characters and building worlds that I can literally map out to strangers I meet on the street. The language is literally the most beautiful that I have read since Shakespeare. She is definitely a word-smith:
"Hot, perpetually pissed-off angel seeks living pincushion for scowl practice and general stabbiness. No kissing."
Everything in this book is appropriate and necessary; however, I felt that there was missing content from the plot line of the Stelians. There were just too many holes. Godstars…are they Godstars now? And of course Eliza. For being such an important character, she played such a small role. I would have loved it if Laini Taylor had expanded on her and her history. This is why this is a LOVED! from me and not an ADORED!. I believe that she should have split the Stelians/Eliza plot in to another book, so that everything wasn't just thrown together. I need CLOSURE!
This series, and it's characters have truly left a mark on my heart.
Overall, this was an amazing end to a wonderful world and trilogy. I recommend this book, and series to anyone who believes in true love.