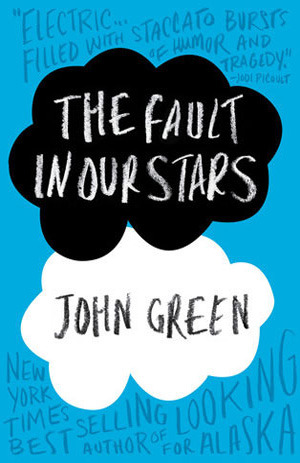 Author: John Green
Publisher: Dutton Books
Series: N/A
Genre: Young Adult, Romance, Contemporary
Format: eBook from Library
Despite the tumor-shrinking medical miracle that has bought her a few years, Hazel has never been anything but terminal, her final chapter inscribed upon diagnosis. But when a gorgeous plot twist named Augustus Waters suddenly appears at Cancer Kid Support Group, Hazel's story is about to be completely rewritten.
---
My Review:
"The fault, dear Brutus, is not in our stars / But in ourselves" -William Shakespeare, Julius Caesar
I am so angry!
I cannot believe that Green left us in the same predicament that Van Houten left his readers when Anna suddenly ended midsentence. Now Green was not as cruel, but he still left us hanging. What happened to Hazel? Did she die (yes I know she was terminal, and death was inevitable for her, but how? And when?)? How about Augustus's family? And most importantly Isaac? Did he ever adapt to being blind? Did he finally feel vindicated after egging Monica's house?
However, even with Green transgressing against us readers by not answering our questions, I do believe that this is a wonderful story. Yes, Hazel and Augustus have, if not insta-love, insta-super-close-friendship, but what other option do they have? They must live in the now, because they do not have a future. And this is probably what I have the hardest time grasping. I do not like to think that my loveable book characters have ended. I like to think that they have a wonderful future where they can grow and love. But Hazel and Augustus cannot.
The end is amazing. Yes, I do not get my answers, but the ending was perfect and completely touching. I like to think that Hazel has overcome insurmountable odds and has survived; that Isaac is completely self-sufficient and strong, and that Augustus is loving and watching them from above.
I recommend this book to anyone who is ready for a good cry and willing to fight against the odds.