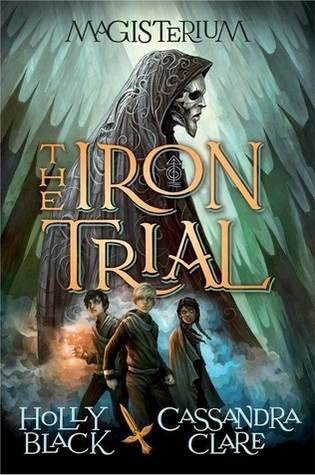 Author: Cassandra Clare & Holly Black
Publisher: Scholastic Press
Series: Magisterium #1
Genre: Middle Grade, Young Adult, Fantasy, Adventure
Release Date: September 9, 2014
Format: eArc from NetGalley
Most kids would do anything to pass the Iron Trial.

Not Callum Hunt. He wants to fail.

All his life, Call has been warned by his father to stay away from magic. If he succeeds at the Iron Trial and is admitted into the Magisterium, he is sure it can only mean bad things for him.

So he tries his best to do his worst – and fails at failing.

Now the Magisterium awaits him. It's a place that's both sensational and sinister, with dark ties to his past and a twisty path to his future.

The Iron Trial is just the beginning, for the biggest test is still to come . . .{amazon.com}
Purchase: {Barnes&Noble} {Amazon}
---
My Review:
1. A dragon and a wyvern set out at 2 p.m. from the same direction. The average speed of the dragon is 30 mph slower than twice the speed of the wyvern. In 2 hours, the dragon is 20 miles ahead of the wyvern. Find the flight speed of the dragon, factoring in that the wybern is bent on revenge.
This quote right here is only one of the reasons that I fell in love with this book, series, characters, and world. The Iron Trial is fraught full of adventure, love , fantasy, humor, and of course a nice little twist at the end! This is the first compilation novel by long time best buddies: Cassandra Clare and Holly Black.
This collaboration is such a wonderful creation. Both Black and Clare are very familiar with creating wonderful fantasy worlds (see Idris and Spiderwick Estate) that make readers want to jump right in and join the characters. Well, the setting in The Iron Trial  did not disappoint. It is just as rich and wonderful, and maybe more so because of the genius collaboration, than the authors previous worlds. You can truly see the caves, taste the lichen and feel the magic that encompasses not only the world but the characters as well.
Callum Hunt is such a normal petulant pre-teen. He is an awkward young man, made only more awkward by his physical disability. However, Call never allows that to slow him down, but almost always allows his anger to foil him. Angry is truly the bet word to describe Call. He is angry that he is disabled. He is angry that he lost his mom, and he is angry that he never seems to be magically successful.
Unlike with other Middle Grade books, I truly felt like Clare and Black captured what REAL 12 year olds act like. It never felt put on, and they never portrayed bigger emotions than their young minds could emote. The realistic characters truly allowed me to connect with the story, and to feel like I might be able to join the Magisterium myself.
Overall, I truly adored this book. It is a great introduction to a new and wonderful world full of magic and possibility. I would recommend this to any Percy Jackson, Harry Potter, and fantasy lover.