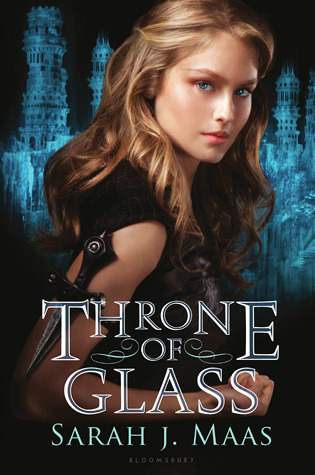 Author: Sarah J. Maas
Publisher: Bloomsbury USA Children's
Series: Throne of Glass #1
Genre: Young Adult, Fantasy, Adventure
Release Date: August 7, 2012
Format: Hardback from library
After serving out a year of hard labor in the salt mines of Endovier for her crimes, 18-year-old assassin Celaena Sardothien is dragged before the Crown Prince. Prince Dorian offers her, her freedom on one condition: she must act as his champion in a competition to find a new royal assassin. Her opponents are men-thieves and assassins and warriors from across the empire, each sponsored by a member of the king's council. If she beats her opponents in a series of eliminations, she'll serve the kingdom for three years and then be granted her freedom.

Celaena finds her training sessions with the captain of the guard, Westfall, challenging and exhilarating. But she's bored stiff by court life. Things get a little more interesting when the prince starts to show interest in her… but it's the gruff Captain Westfall who seems to understand her best.

Then one of the other contestants turns up dead… quickly followed by another.

Can Celaena figure out who the killer is before she becomes a victim? As the young assassin investigates, her search leads her to discover a greater destiny than she could possibly have imagined. {goodreads.com}
Purchase: {Barnes&Noble} {Amazon}
---
My Review:
Oh my goodness! I cannot believe I had never heard about this book/series UNTIL all the hoopla with Maas' latest publication in the series:  Heir of Fire.
Where have I been? Under a rock…apparently. This book is crazy good. It is full of action, love, adventure, intrigue, magic, and did I mention BUTT kicking girl power? Yes, yes it is!
World Building
The world that Maas creates is so fantastically gorgeous. I quickly fell in love as soon as I saw the map in the very front of the book, à la The Lord of The Rings. As with The Lord of the Rings -AND- Game of Thrones  Erilea is a vast and complicatedly built country that was created by the hubris of a warlord.
As soon as Caelena begins to describe the world, and they begin to move from one location to another you, the reader, begin to understand how vast and huge this world truly is. However, in Throne of Glass you are only exposed to a very tiny sliver of this magical world (Endovier & Adarlan). However, in the next books and novellas, you will be exposed to many more nooks and crannies of this world.
Celaena
Oh my gosh. How do I even portray how much I love this kick-ass woman? She is amazing. She is tiny but strong. Tough but innocent. And innocent but guilty. That is truly the only way to explain the world of contradictions that make up Celaena Sardothien.
She is my new favorite character/role model/ bestie. She is such a strong character that you will either love her or hate her. There is absolutely no in between when it comes to this strong-willed character.
Sarah J. Maas
This woman is such an amazing author. Please if you get the chance visit her page (linked here), and take the time to go through her online book that she co-writes with Susan Dennard (The Starkillers Cycle).  Peruse her FAQs and just familiarize yourself with the wonderful person that created and amazing world.
Wrap-Up
So as I finish up this review please take the time to check out this story. You will not be disappointed. You do not have to be a fan of high fantasy, because it's characters will speak to anyone.