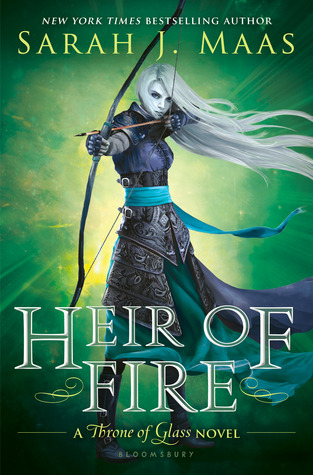 Author: Sarah J. Maas
Publisher: Bloomsbury Childrens
Series: Throne of Glass #3
Genre: Young Adult, Fantasy, Paranormal, Romance
Release Date: September 2, 2014
Format: Hardback from Library
 Lost and broken, Celaena Sardothien's only thought is to avenge the savage death of her dearest friend: as the King of Adarlan's Assassin, she is bound to serve this tyrant, but he will pay for what he did. Any hope Celaena has of destroying the king lies in answers to be found in Wendlyn. Sacrificing his future, Chaol, the Captain of the King's Guard, has sent Celaena there to protect her, but her darkest demons lay in that same place. If she can overcome them, she will be Adarlan's biggest threat – and his own toughest enemy.

While Celaena learns of her true destiny, and the eyes of Erilea are on Wendlyn, a brutal and beastly force is preparing to take to the skies. Will Celaena find the strength not only to win her own battles, but to fight a war that could pit her loyalties to her own people against those she has grown to love? {goodreads.com}
Purchase: {Barnes&Noble} {Amazon}

---
My Review:
I absolutely hate reading a series and then running in to the small problem of: I have read all that is published…WHAT DO I DO NOW?! That being said, I will just follow the outline of my previous reviews  The Assassin's Blade,  Throne of Glass, and Crown of Midnight. 
World Building
In this addition to the Throne of Glass  world, you are transported in to a new land. Celaena has been sent away from Adarlan by Chaol to protect her. She is sent to Wendlyn and we quickly learn that this land means more to her than ever imagined. While in Wendlyn, Celaena decides that she is unable to carry out the King's mission (kill the royal family of Wendlyn) and decides to just loaf around, that is, until Rowan (a fae prince) finds her and takes her to visit her great-aunt Maeve. Which, leads to even more twisting and turning and the introduction to an even more magical world of monsters and delights.
Celaena
Is still dealing with all the grief that she has over Nahemia. She must learn (and she does) to not only overcome this, but to use it to defeat those that wish to reign over her.
Rowan
Is everything that a fae prince should be. He is arrogant, beautiful, and completely devoted to those that he chooses to protect.
Manon Blackbeak
Is by far my favorite character. She is bad ass and knows exactly what she wants. She is a formidable opponent that does not allow and shortcoming to prevent her from taking what is hers.
Once again, I cannot recommend this series any more than I already have. Please take the time to read this series, I promise you will not be disappointed.